We all know its going to be awesome. So post here on what you think they should change/improve,add or just how awesome it is.
Here is some facts about the game so far.
Game comes out 11,11,2011
New Combat system including duel wielding of weapons including staffs,special move, finishing moves, individual body part hit detection.Etc.
New Magic System: With visible effects on your hands as you equip. area and ground effects, Spells are equiped on a hand.
Horse are confirmed in game play trailer. (You might not think it does but look at the part with the windmill. In front of a building is a horse.)
You might possibly be able to be a bard. One of the cites in the game is said to be the location of a bard college and in the trailer you can see a bard playing an instrument.
You will be able to fight multiple dragons in the game.
Bows and arrows will be a slower but more deadly weapon.
Jobs: Such as blacksmithing
Dragon Shouts: Of course. Some effects include slowing down time and calling dragons to help.
Slimmed down Skill system:There are less skills again. But the enchant skill makes a come back.
When you level up you choose "perks" which are kind of like an upgrade tree they give you special abilities and skill increases.
The combination of spells is being discussed by Bethesda
NPC's no longer stop time and zoom in to their face when you talk to them. They will continue what they were doing.
Radiant story:
Generated Stories based on the players play style and what they have done.
Example: (Not an example given by Bethesda and in no way represents content.) You do a quest for to retrieve an amulet and have to choose between giving it to an evil person or a good person. So you give it to the good person. She gives you your reward and your on your way. So you hear about children going missing in a cave and go to take a look and after battling multitudes of bandits in the cave you discover that the leader is none other than said baddy you didn't give the amulet too.
This may sound like a simple quest but this doesn't happen on a generic basis. Imagine now your actions have consequences that don't fit to just that quest.
Also no more worries about "accidentally" killing a quest giver if they are some how "occupied" than their son, daughter,brother, sister, etc will continue as the quest giver. (unless they are pissed because you killed their father of course."
I will continue added information soon.
Maybe even some comparison shots.
Post your thoughts below.
SKYRIM!!!!
Edit:
Comparison
Orcs Before:
Orcs After: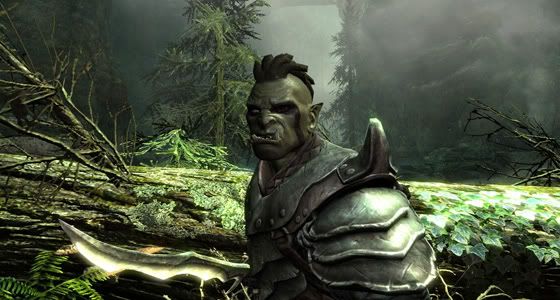 Kajhiit Before: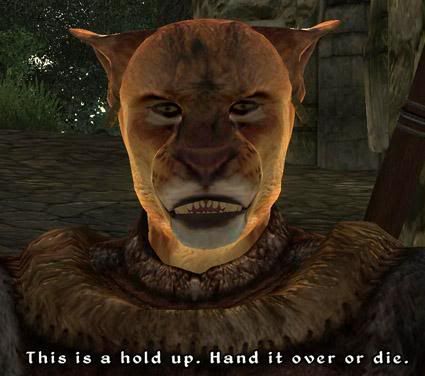 Kajhiit After: